High-Quality Dental Implant & more
Our NHS and private crowns and bridges are made of quality materials, including EMAX, ZIRCONIA, and full-metal. Everything is completed by our crown and bridge department, and this means that you receive a quality final products.


Nickel - Free Metal Restorations

Fpr Best aesthetics use E.Max

Ideal for posterior restorations
Porcelain build-up Zirconia
Zirconia With Porcelain overlay
Ideal For Inlays, onlays, and crowns
Our removable department offers all types of high-quality restorations (NHS and private) including a full range of high-end prosthetics and associated appliances. Ivo Dentech Ltd uses durable Enigma acrylic for our dentures which is then contoured and stippled with client's choice of teeth and supplied in presentation case along with a duplicate model.
We offer repair and a same-day service, and our dentures are gum-tinted. This is as well as us providing a range of gum shield colours and combination/ attachment cases.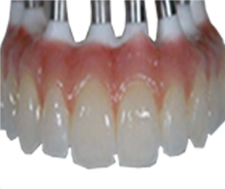 Our implant department is happy to assist clients with all stages of dental implant services from planning and restorative design to clinical appointment scheduling. Our highly experienced and dedicated team is proficient in all major implant systems and are able to produce fixed and removable implant restorations from a wide range of aesthetic materials
Want to discuss a case with us, need more information on the lab? Feel free to send us your queries, we would be happy to assist you.